-10%
Apple MacBook Pro M2 13-inch
Apple MacBook Pro M2 13-inch Features
Brand: Apple
13-inch Retina display
Apple M2 chip
8GB to 24GB unified memory
256GB to 2TB storage
Up to 20 hours battery life
Touch Bar and Touch ID
Operating System: macOS
Description
You are a Pro Anywhere you Go!
Apple MacBook Pro M2 13-inch Features
13-inch Retina display
Apple M2 chip
8GB to 24GB unified memory
256GB to 2TB storage
Up to 20 hours battery life
Touch Bar and Touch ID
With the introduction of the M2 chip, the Apple MacBook Pro M2 13-inch has reached new heights of capability. Despite its compact design, it now offers an impressive battery life of up to 20 hours and incorporates an active cooling system to ensure sustained high performance. Alongside these advancements, it retains its brilliant Retina display, a FaceTime HD camera for crisp video calls, and top-notch studio-quality microphones. As a result, it stands as our most portable professional laptop, combining power and portability seamlessly.
The M2 chip ushers in a new era of Apple silicon, building upon the speed and energy efficiency innovations introduced by its predecessor, the M1. This new chip offers an enhanced performance with its powerful 8-core CPU, allowing users to breeze through their workflows seamlessly. It also boasts a lightning-fast 10-core GPU, enabling the creation of stunning graphics. The high-performance media engine facilitates working with multiple streams of 4K and 8K ProRes video simultaneously. Furthermore, the M2 chip supports up to 24GB of faster unified memory, empowering users to handle multiple tasks and demanding applications with ease.
Connectivity
With these cutting-edge features, MacBook Pro offers unparalleled flexibility and connectivity options to suit your diverse needs.
Thunderbolt Technology
Experience the perfect combination of exceptional versatility and lightning-fast data transfer with Thunderbolt technology. With Thunderbolt, MacBook Pro seamlessly enables data transfer, device charging, and video output, all through a single port. In fact, the MacBook Pro is equipped with two Thunderbolt ports, further enhancing its connectivity capabilities.
Wi-Fi 6
The inclusion of Wi-Fi 6 ensures robust and reliable performance as more devices connect to the network, allowing you to stay connected without compromise.
Headphone Jack
The headphone jack on the MacBook Pro supports high-impedance headphones, delivering exceptional audio quality for an immersive listening experience.
13″ Retina Display
The Retina display elevates images to a whole new level, immersing viewers in an astonishing level of detail and lifelike visuals. Text becomes razor-sharp and easily legible. Thanks to its bright LED backlighting, the display achieves deep blacks and vibrant whites, enhancing the overall contrast. With the inclusion of P3 wide color support, the Retina display produces even more vivid greens and reds compared to the standard sRGB color space. Moreover, the Apple MacBook Pro M2 13-inch incorporates True Tone technology, which intelligently adjusts the white balance to match the ambient lighting conditions, resulting in a more natural and pleasing viewing experience.
Facetime HD Camera and Studio Quality Microphones
Capture attention and make an impact with the advanced camera and microphones. Leveraging the power of the M2 chip, the FaceTime HD camera benefits from our latest image signal processor, resulting in a remarkable video quality that will make you look great during video calls.
Whether you're leading a meeting, hosting a podcast, or simply connecting with loved ones, the studio-quality microphones ensure that your voice is projected with clarity and precision, making sure everyone can hear you loud and clear. This combination of cutting-edge camera technology and high-quality microphones guarantees that you will be both seen and heard with utmost brilliance and clarity.
System Navigation of the Apple MacBook Pro M2 13-inch
Keyboard
Experience typing perfection with the exceptional Magic Keyboard. The Magic Keyboard offers a typing experience that is not only comfortable but also quiet and highly responsive. Its design ensures that your fingers glide effortlessly across the keys, enabling a seamless and enjoyable typing session. The Magic Keyboard is the epitome of a typing companion that perfectly complements your needs and enhances your overall productivity.
Touch ID
With Touch ID integrated into the keyboard, you can quickly and securely authenticate your logins and purchases, adding an extra layer of convenience and peace of mind. Unlock your Mac instantly with a simple touch on the sensor, and secure it by pressing the same button. Your fingerprint becomes the key, allowing you to effortlessly rent movies, purchase apps, and access locked documents or system settings without the need to repeatedly enter your password. Furthermore, when making online purchases using Apple Pay, Touch ID works seamlessly to automatically fill in your shipping and billing information, all while keeping your card details private and secure. With the convenience and security of Touch ID, your Mac experience is elevated, making authentication and online transactions smoother and more efficient.
Touch Bar
Accelerate your productivity with convenient shortcuts and features that pave the way to success. Easily access your preferred emoji, switch between languages seamlessly, and enjoy effortless interaction with Siri. These intuitive tools streamline your tasks, enabling you to accomplish a wide range of activities more efficiently. With these time-saving shortcuts and enhanced accessibility, you can navigate through your daily routines with ease and achieve your goals with greater speed and convenience.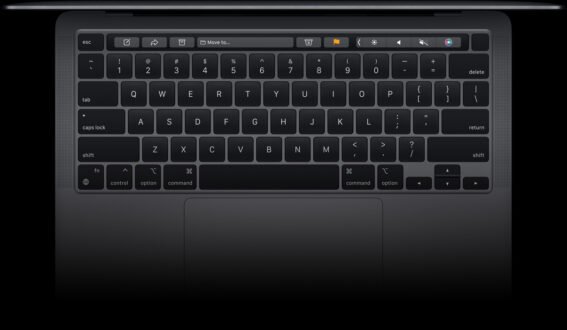 Battery
Enjoy up to 20hours of battery life. Flip your  Apple MacBook Pro M2 13 inch anywhere and work on your project.
Buy Apple MacBook Pro M2 13-inch (16GB RAM/512GB SSD) at Spenny Technologies today at an affordable price.