-8%
DJI Mini 3 Pro
DJI Mini 3 Pro Features
Under 249 g
Tri-Directional Obstacle Sensing
4K HDR Video
Extended Battery Life
True Vertical Shooting
FocusTrack
Description
DJI Mini 3 Pro Features
Under 249 g
Tri-Directional Obstacle Sensing
4K HDR Video
Extended Battery Life
True Vertical Shooting
FocusTrack
Remarkably Mini
The mini-sized, mega-capable DJI Mini 3 Pro is just as powerful as it is portable. Weighing less that 249g and with upgraded safety features, it's not only regulation-friendly, it's also the safest in its series. With a 1/1.3-inch sensor and top-tier features, it redefines what it means to fly mini.
Packed With Performance
The Mini 3 Pro showcases a brand-new appearance that is designed to enhance the flying experience to its fullest potential. Featuring bigger propellers, an aerodynamically tilted body, and an advanced obstacle detection system, this sleek design enables longer flight durations and enhanced safety.
The redesigned gimbal provides a wider range of rotation, enabling captivating low-angle shots and True Vertical Shooting, unlocking limitless creative possibilities. Every aspect of this transformation has been meticulously planned to elevate the Mini to unprecedented heights.
Fold Up and Go
For creators who are constantly on the go, it is crucial to have a user-friendly experience. The Mini 3 Pro, weighing under 249 g, eliminates the need for registration in the majority of countries and regions. Additionally, its foldable and compact design allows for effortless transportation during activities like hiking, going to the beach, or taking unplanned weekend trips. You'll always be prepared to capture stunning footage whenever inspiration strikes.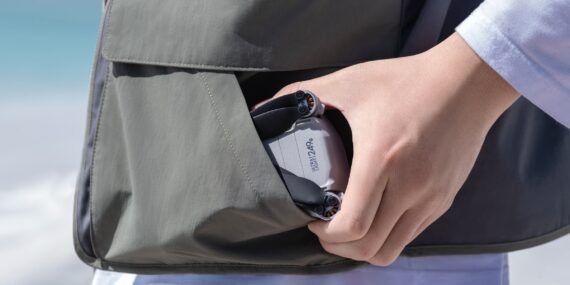 Sweet Air Time
Uncover and discover a greater portion of your environment with an extended flight duration of up to 34 minutes. The Intelligent Flight Battery of the DJI Mini 3 Pro is exceptionally lightweight yet packs enough energy to fulfill your aerial photography requirements.
Fly By Day – Fly By Night
Embrace the delicate interplay of light and shadows during your day excursions, allowing the Mini 3 Pro to seize these nuances.
As twilight approaches, capture your surroundings with remarkable clarity and minimal noise.
Cherish each moment, remain faithful to your creative journey, and rely on the Mini 3 Pro to immortalize your world.
Tri-Directional Obstacle Sensing
Undoubtedly, the DJI Mini 3 Pro is the safest Mini model we have ever produced. With the inclusion of dual-vision sensors in the front, rear, and downward directions, along with a completely redesigned aircraft, it provides an expanded sensing range and elevated safety measures.
Controllers
Indulge in seamless flight maneuvers and precise control using either the DJI RC-N1 Remote Controller or the newly introduced DJI RC. Both controllers provide an impressive maximum video bitrate of 18 Mbps, ensuring high-quality video transmission, coupled with an ultra-low latency of just 120 ms for a remarkably responsive flying experience.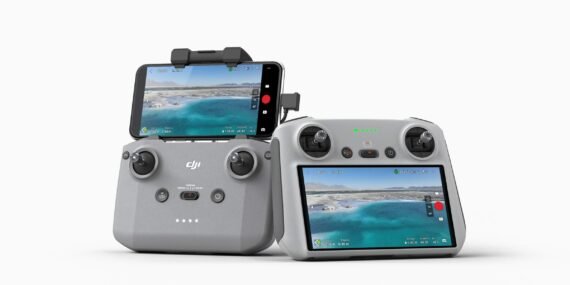 Instantly Share Worth
Seize unforgettable moments and promptly share your thrilling adventures while on the move. With a wide array of intelligent features, the DJI Mini 3 Pro empowers you to incorporate captivating moments and artistic touches into your videos, adding a touch of brilliance to your content.
Extras
Standard aircraft weight (including DJI Mini 3 Pro Intelligent Flight Battery, propellers, and a microSD card). The actual product weight may vary due to differences in batch materials and external factors.
Measured at a constant speed of 21.6 kph in windless conditions. With DJI Mini 3 Pro Intelligent Flight Battery, the aircraft can fly for up to 34 mins. With the Intelligent Flight Battery Plus (sold separately and only in select countries), flight time is extended to up to 47 mins, but the aircraft will weigh more than 249 g.
HDR video does not support video recording at over 30fps.
Obtained by using QBC (quad bayer coding) techniques and realized by combining four pixels into one. Cannot be achieved when shooting at 48MP.
APAS 4.0 is not available while recording 4K/48fps, 4K/50fps, 4K/60fps, 2.7K/48fps, 2.7K/50fps, 2.7K/60fps, and 1080p/120fps video.
FocusTrack is not available while recording 4K/48fps, 4K/50fps, 4K/60fps, 2.7K/48fps, 2.7K/50fps, 2.7K/60fps, 1080p/48fps, 1080p/50fps, 1080p/60fps, and 1080p/120fps video.
Buy aDJI Mini 3 Pro from Spenny Technologies at an affordable price of KSH. 175,000 in Kenya.