-4%
TCL 98″ 4K QLED Super Large Screen TV – 98C735
TCL 98″ 4K QLED Super Large Screen TV – 98C735 Features: 
Immersive Super Large Screen TV

QLED

4K Ultra HD

IMAX Enhanced

Dolby Vision IQ · Atmos

120Hz MEMC

HDR 10

Hands-free Voice Control

Google Assistant
Description
TCL 98″ 4K QLED Super Large Screen TV – 98C735 Features: 
QLED

4K Ultra HD

IMAX Enhanced

Dolby Vision IQ · Atmos

120Hz MEMC

HDR 10

Hands-free Voice Control

Google Assistant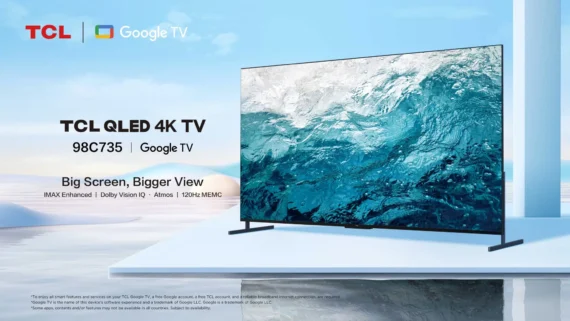 4K QLED –
Immerse yourself in a world of ultra-high-definition visuals as over a billion Quantum Dot nanocrystals filter the content with precision. The stunning 4K display is further enhanced by incorporating the latest advancements in high dynamic range technology. The result is a breathtaking visual experience, where vibrant and flawless images come to life. With a remarkable color volume that surpasses 100% and stunning brightness, every detail is presented with stunning clarity and depth. Prepare to be captivated by the beauty and richness of the visuals, as the display delivers an unparalleled viewing experience.
IMAX Enabled – TCL 98″ 4K QLED Super Large Screen TV – 98C735
Indulge in a cinematic experience that perfectly captures the vision of content creators. The IMAX Enhanced display adheres to the strictest certification standards in terms of calibration, resolution, refresh rate, frame quality, and sound performance. Immerse yourself in visuals that are precisely tuned to deliver an unparalleled level of detail and clarity. Combined with exceptional audio quality, the IMAX Enhanced display ensures that you experience content exactly as intended, with all its immersive and captivating elements faithfully reproduced. Get ready to be transported into a world of audio and visual excellence, just as envisioned by the creators themselves.
Dolby Vision IQ · Dolby Atmos
Embark on an extraordinary journey with an unparalleled audio-visual experience for movies, shows, and games. Dolby Atmos revolutionizes sound by liberating it from traditional channel limitations, delivering multi-dimensional audio that immerses you in a captivating soundscape. Step into a cinematic realm within the comfort of your home as Dolby Vision IQ showcases the cutting-edge advancements in Dolby technology. Dolby Vision IQ elevates the appearance of Dolby-exclusive content by expanding the color spectrum, enhancing contrast, and elevating brightness levels. Additionally, a built-in light sensor intelligently adjusts the content based on the brightness of the room, ensuring optimal viewing quality. Prepare to be amazed as you immerse yourself in stunning visuals and breathtaking audio, experiencing entertainment like never before.
120Hz MEMC
Experience an unparalleled level of smoothness in picture processing with MEMC (Motion Estimation & Motion Compensation) technology. This intelligent algorithm ensures a refresh rate of 120 frames per second (fps), allowing for the seamless display of high-resolution entertainment in its native speed. Whether you're enjoying content with a lower frame rate or viewing fast-paced, action-packed scenes, the MEMC technology works its magic to upgrade the visual experience. As a result, you can expect crisper and more defined images without any blurring, even during intense and fast-moving sequences. With this advanced technology, your display keeps up with the action, delivering an immersive and uninterrupted viewing experience.
Hands Free Voice Control
Ask Google to play music, stream apps, find movies and control the TV with your voice.
*Google Assistant
Immerse yourself in a vibrant and exceptional QLED entertainment experience with the TCL 98C735 Super Large Screen TV. This powerful device offers a remarkable specification that ensures an outstanding audio-visual journey. Prepare to be captivated by stunning visuals and enhanced color reproduction, accompanied by immersive sound quality. The 98C735 delivers a high-value entertainment experience, where every detail is brought to life, guaranteeing a truly enjoyable and immersive audio-visual adventure.
Basic Information
Launcher Homepages Show – Google Play, Featured Apps, Source, etc.
Bluetooth – Bluetooth 5.2
CPU – 64-bit A73*4 @1.6GHz max
UI Style – Android TV UI & TCL TV+ 3.x UI
Internet Link – 2.4GHz/5GHz dual-band Wi-Fi 802.11 b/g/n/ax 2T2R (WIFI 6); Ethernet Network (RJ45)
LED Indicator – Standby indicator (1-LED, white); MIC indicator (4-LED, colored)
GPU – G52(2EE)MP2, 550Mhz
Certification – CB, Dolby Atmos, Dolby Vision IQ, HDMI, DTS-HD,IMAX; CTS (Google Official Certification), Netflix
TV System – ATV: PAL/NTSC/SECAM-DK/BG/I/M; DTV: DVB-T/T2
Power Supply – AC 100V-240V 50/60Hz
Product Type – LED 4K TV(120Hz+local dimming+MEMC+Smart)
Power Consumption (TV On) – 540W
USB Device Media Format
USB Mouse/Key Board – Yes
Music – MP3, MKV, WMA, AVI
Picture – JPEG/PNG/BMP/WebP/HEIF codec