LG 77 Inch OLED evo | 77C2 | 4k Cinema HDR | Self-lit | Cinema Screen Design | WebOS | ThinQ
KSh545,000.00
Key Features of the LG 77 Inch OLED evo TV
Display type LED
Screen size 77 Inch
Resolution Ultra HD
USB, HDMI, Digital tuner, Smart TV
Advanced picture and functionality with the α9 AI Processor 4K Gen6
Bright, bold visuals of Brightness Booster
Ultra Slim Design with barely-there bezels
Smart Functionality, including ThinQ AI, WebOS, and Hands-Free Voice Recognition
Immersive entertainment with Dolby Atmos & Vision, VRR, G-sync, and Freesync
webOS 23
Description
Key Features of the LG 77 Inch OLED evo TV
Display type LED
Screen size 77 Inch
Resolution Ultra HD
USB, HDMI, Digital tuner, Smart TV
Advanced picture and functionality with the α9 AI Processor 4K Gen6
Bright, bold visuals of Brightness Booster
Ultra Slim Design with barely-there bezels
Smart Functionality, including ThinQ AI, WebOS, and Hands-Free Voice Recognition
Immersive entertainment with Dolby Atmos & Vision, VRR, G-sync, and Freesync
webOS 23
LG 77 Inch OLED evo. The Pioneer of a Definitive Decade
Why is the LG 77 Inch OLED evo considered the best OLED brand globally? It boasts ground breaking innovations, captivating designs that push the boundaries of your imagination, a more vibrant and impactful picture quality that brings scenes to life, immersive sound that enhances the realism of any content, and cutting-edge technology that continuously improves your TV viewing experience.
It is Game Over! for competition
Sports take center stage with special attention. Stay updated on your favorite team with a customized Sports Alert that provides direct access to match schedules right from your home screen. Benefit from LG OLED's ten years of innovation, as it delivers a lifelike stadium experience through its expansive display and the sharp clarity provided by the α9 AI Processor 4K Gen6. This makes it perfect for simultaneously watching two games with Multi View.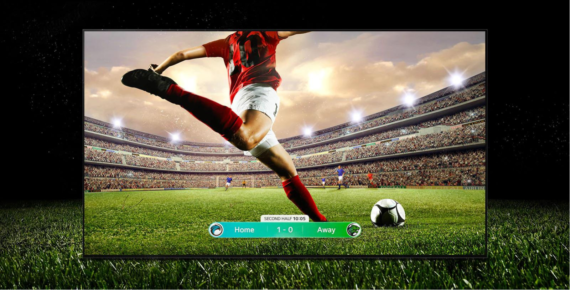 Home to all your favorites
Access the Netflix, Disney+ Hotstar, Apple TV app, and Amazon prime video. Choose From the latest movies, TV shows, documentaries, and live sports, and find them all in one place.
Bluetooth Surround Ready
A clear home advantage. Easily connect Bluetooth speakers for a true wireless surround sound experience. All the action sounds richer and more realistic, bringing the big-game atmosphere to your living room.
Gallery Stand
Designed to stand out. Picturesque works of art aren't just for walls anymore. The Gallery Stand gives you the freedom to place your TV out in the open and turn your home into a gallery.
AI Picture Pro
Using a vast database of over one million visual data points, the deep-learning algorithm recognizes content, removes noise, and optimizes picture quality. And the new Scene Detection feature can now analyze the type of scene being shown and improve the picture accordingly.
AI Sound Pro
By learning from more than 17 million audio data points, the processor identifies voices, effects, and frequencies so it can then optimize the sound by genre for a more immersive experience. And the new Auto Volume Leveling feature maintains consistent voice levels across different types of content.
LG 77 Inch OLED evo
LG OLED TVs are safer for you and the environment than LED TVs. Because our TVs use self-lit pixels, it's more comfortable for your eyes when you watch for long periods. LG OLED panels have also been recognized as eco-friendly with reduced risk of hazardous emissions.
Eye Comfort
If you worry about you and your family's eyes, LG 77 Inch OLED evo TVs provide a more comfortable way to watch for longer. They've been certified as low-blue light, flicker-free, and discomfort glare-free displays by international agencies TÜV Rheinland (TUV) and Underwriter Laboratories (UL). LG OLED TVs are also the first panels from any kind of TV to receive the Eyesafe® certification developed by TUV-Eyesafe®.
Eco-friendly OLED
LG OLED TVs are officially eco-friendly. When compared with LED TVs, they're safer because they don't use backlights, they're made with less plastic, use fewer hazardous materials, and have a lower risk of producing indoor air pollutants.
What is the price of LG LED TV 77 inch? Buy LG 77 Inch OLED evo at Spenny Technologies today the most affordable price in Kenya.